The Life Of Ram Lyrics (Telugu Song)
The Life of Ram Song Lyrics in Telugu movie "Jaanu", Sharwanand and Samantha Akkineni has starred in this film. The Life of Ram Telugu version son lyrics written by Siri Vennela Seetharama Sastry and this song Vocals by playback singer 'Pradeep Kumar'. Jaanu movie music composed by Govind Vasantha and the movie 'Jaanu' Directed by C Prem Kumar.
The Life of Ram Telugu song is from Jaanu movie hero entry song in this song Sharwanand shows his Lifestyle and express his pain in love, this song touches everyone's heart, Directed C Prem Kumar making this awesome through the wildlife photography locations.
---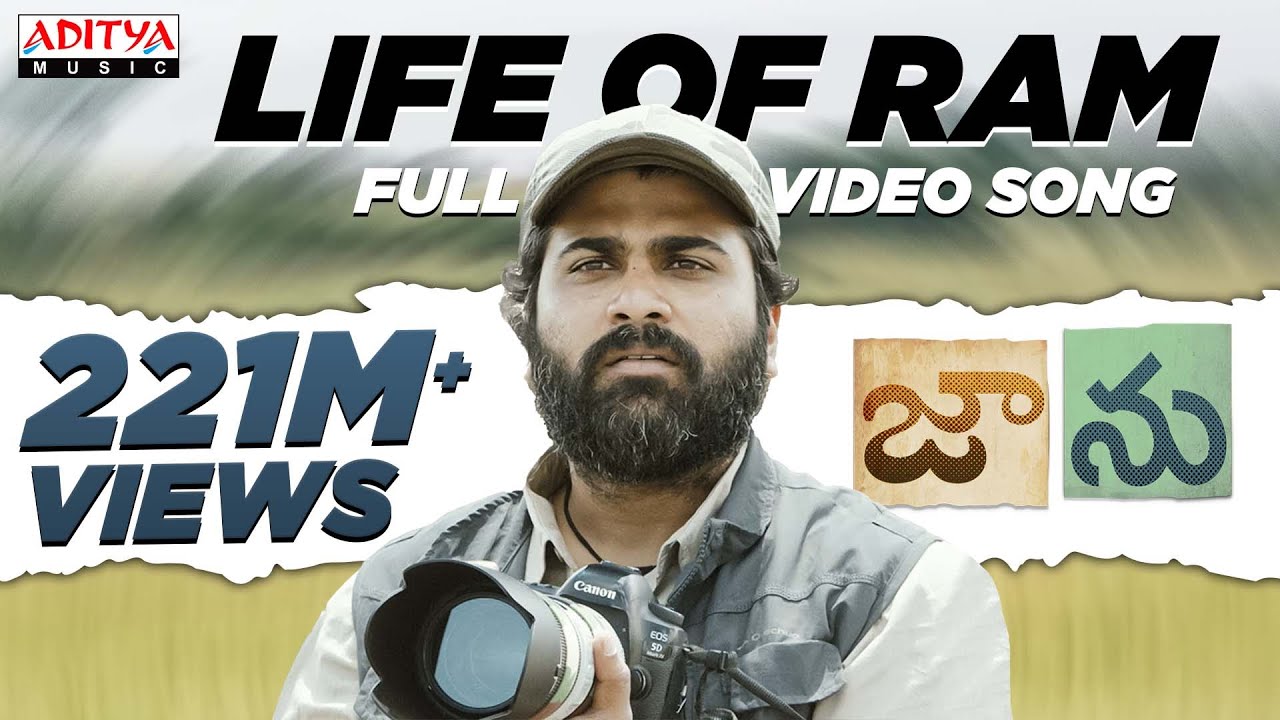 Song Details:
---


Yedharedhuraina yetuveluthundho adigana
Em thochani parugai pravahisthu pothuna
Em chusthu unna ne vethikana yedhaina
Oorikine chuttu yevevo kanipisthu unna

Kadhalani ho shilane aina
Thrutilo karige kalane aina
Em theda undhata
Nuvevarantu adigithe nannevaraina

Illage kadadhaka
Ho prashnai untanantunna
Yedho oka badhulai
Nanu cherapoddhani kalanaduguthu unna

Na ventapadi nuvventha ontarivanavaddhu
Anoddhu dhayunchi yavaru
Inkonni janmalaki saripadu
Aneka sruthulni itharulu yeragaru

Na oopirini innalluga
Thana vennanti nadipina
Cheyutha yavaridhi
Na yadha layanu kusalamu adigina
Gusa gusa kabhurula
Guma guma levarivi

Udhayam kagane thajaga puduthu unta
Kaalam ipude nanu kanadha
Anaganaga antu ne unta
Yepudu poorthavane avaka
Thudhi leni kadha nenuga

Gaali waatam laga aage alavate leka
Kaalu nilavadhu ye chhota nilakadaga
Ye chirunama leka ye badhulu pondhani lekha
Yendhuku vesthundho keka mounamga

Na ventapadi nuvventha ontarivanavaddhu
Anoddhu dhayunchi yavaru
Inkoni janmalaki saripadu
Aneka sruthulni itharulu yeragaru

Na oopirini innalluga
Thana vennanti nadipina
Cheyutha yavaridhi
Na yadha layanu kusalamu adigina
Gusa gusa kabhurula
Guma guma levarivi

Lolu yekantham na chuttu allina lokam
Naake sontham antunna vinnara
Nenu na needa iddharame chalantunna
Rakudadhu inkevaraina

Amma vodilo monna
Andhani aashalatho ninna
Yentho ooristhu undhi
Jaabili yentha dhoorana unna
Vennelega chanthane unna
Antu ooyalalopindhi jolali

Thaane naane naanine
Thaane naane naanine
Thaane naane naanine
Thaane naane naanine
Thaane naane naanine
Thaane naane naanine
Thaane naane naanine
Thaane naane naanine
The Life Of Ram Watch Video Song: