Digu Digu Digu Naaga Lyrics - Shreya Ghoshal
Digi Digu Digu Naga Song Lyrics are from the upcoming Tollywood film ''Varudu Kavalenu", Released in 2021. Casting "Nag Shourya and Ritu Varma"
. Song Lyrics are written by 'Anantha Sriram' and the song lyrics are sung by Shreya Ghoshal. And this beautiful melody and romantic duet song were composed by Thaman S.
---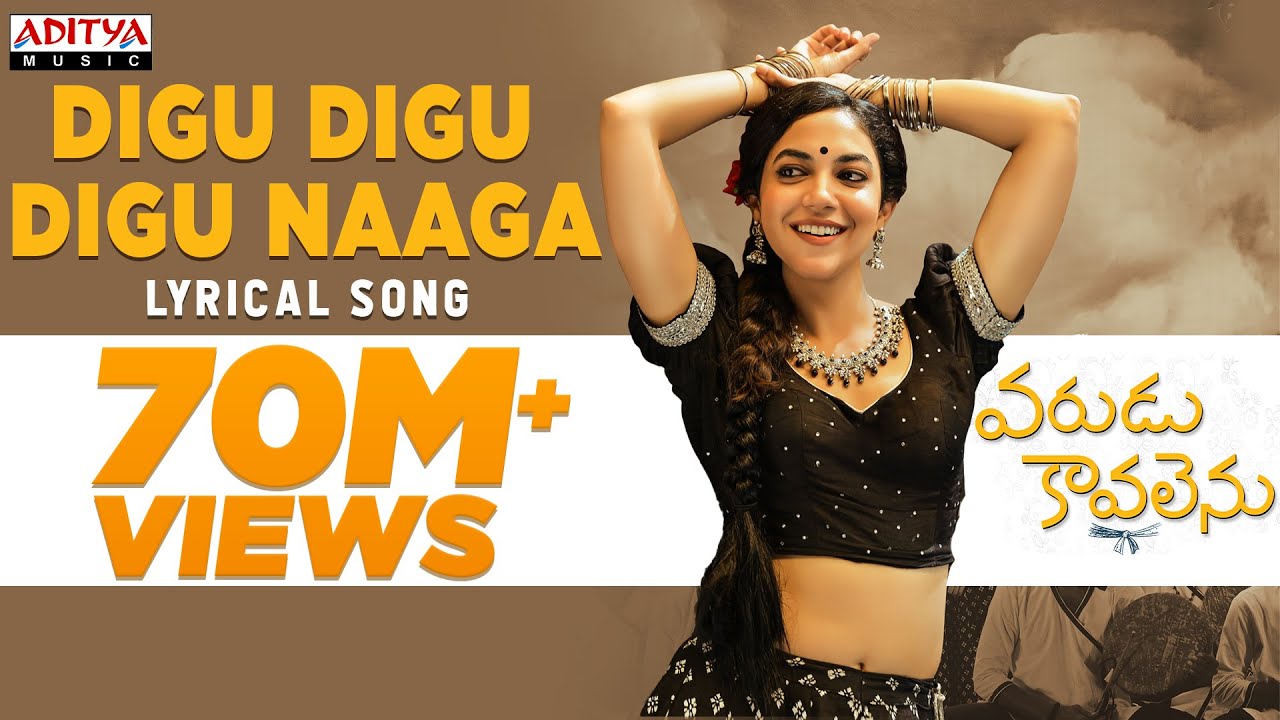 ---
| | |
| --- | --- |
| Singer: | Shreya Ghoshal |
| Composer: | Thaman S |
| Music-Label: | Aditya Music |
| Song Writer: | Anantha Sriram |
---
Digu Digu Digu Naga Lyrics:

Dhigu dhigu dhigu naaga
Dhigu dhigu dhigu naaga
Dhigu dhigu dhigu

Dhigu dhigu dhigu naaga
Naago naa Dhivya sundhara
Naago Naaga
Dhigu dhigu dhigu naaga
Naago naa Dhivya sundhara
Naago Naaga

Naageti saalakaada
Naaketti panirooo
Naapagaddi chela kaada
Naaketti panirooo
Naageti saalakaada
Naaketti panirooo
Naapagaddi chela kaada
Naaketti panirooo
Sandhaala santhakaada
Naaketti paniroo
Saakirevu thaguvu kaada
Naaketti paniro
Iragabetti maragabetti
Migalabetti thagalabetti
Alakabettina nee
Yavvaaram chaaluroo

Kompakocchi poroi kodenaaga
Kompa munchuthaandho
Eedu baaga
Kompakocchi poroi kodenaaga
Kompa munchuthaandho
Eedu baaga
Sempa gilli poroi setti naaga
Samputhaandhi paite
Padaga laaga

Dhigu dhigu dhigu naaga
Naago naa Dhivya sundhara
Naago Naaga
Dhigu dhigu dhigu naaga
Naago naa Dhivya sundhara
Naago Naaga

Na na na naage naaga naaga
Na na na naage naaga naaga
Na na na naage naaga naaga
Na na na naage naaga naaga

Oorimeedhi godavalanni
Netthimeedhakethukuntav
Goduguthoti poyyedhanni
Gudisedhaaka tecchukuntav
Oorimeedhi godavalanni
Netthimeedhakethukuntav
Goduguthoti poyyedhanni
Gudisedhaaka tecchukuntav
Alakathone illu
Alikethene gaani
Ee dhikku soodav
Paisa ki panikiraani
Kaani ki kalisirani
Kanne moju teerchaleni
Sunnaalu saaluro

Kompakocchi poroi kodenaaga
Kompa munchuthaandho
Eedu baaga
Sampadinchi raaroi
Gaddu naaga
Gampedaasa naalo
Rompa mega

Dhigu dhigu dhigu naaga
Naago naa Dhivya sundhara
Naago Naaga
Dhigu dhigu dhigu naaga
Naago naa Dhivya sundhara
Naago Naaga
Oo naaga oo naaga
Digu Digu Digu Naaga Lyrics Watch Video