Naa Cheli Rojave Lyrics
Naa Cheli Rojave Song Lyrics is from "Roja" Telugu Movie, Casting Arvind Swamy, and Madhubaala. Paruvam Vaanaga Song Lyrics are written by Rajashri and this song Vocals by SP Bala Subramanyam and Sujatha Mohan. These beautiful movie songs Composed by AR Rahman and movie Directed by Mani Ratnam.
Enjoy this beautiful melody song "Naa Cheli Rojave Naalo Unnaave" given by India's most popular music director AR Rahman. and also the video of Naa Cheli Rojave song.
---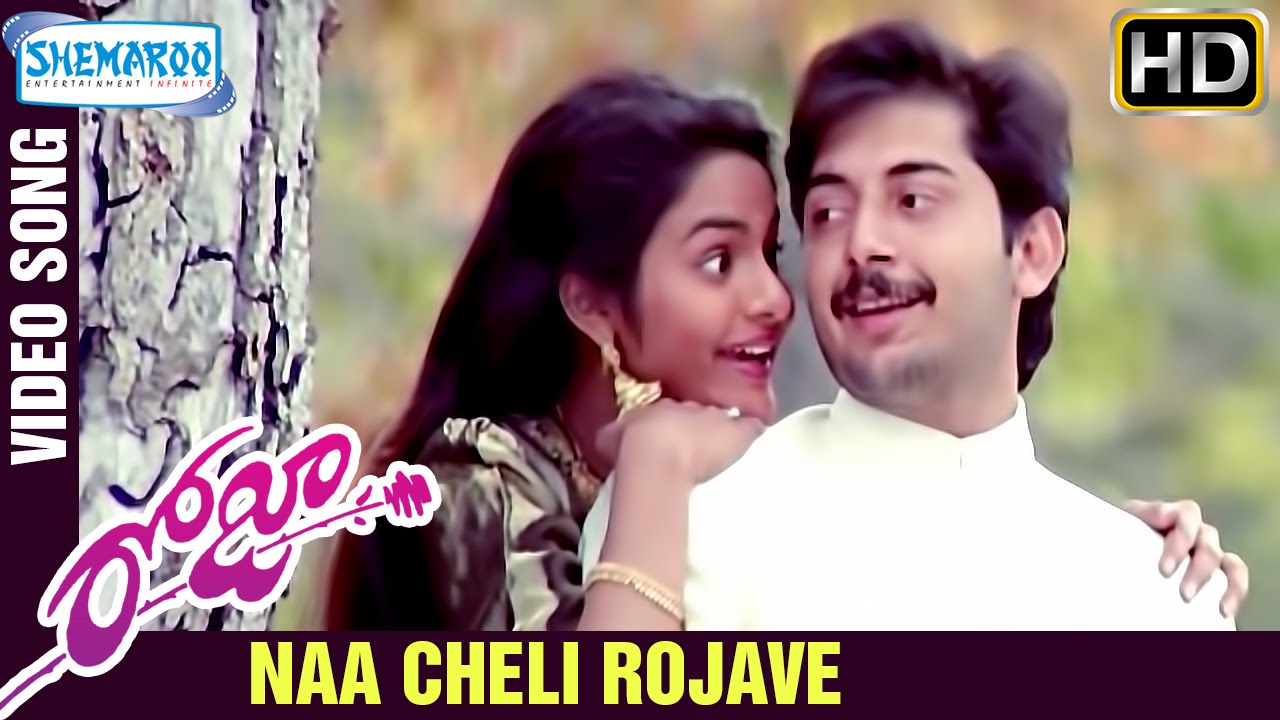 Naa Cheli Rojave Song Lyrics
---
Song Details:
Song Title:





Singers:

Naa Cheli Rojave





SP Balasubrahmanyam, Sujatha Mohan

Composer:

AR Rahman

Music-Label:

Lahari Music

Song Writer:





Album/ Movie:





Cast:

Rajashri



Roja (1992)



Arvind Swamy, Madhu Baala, Pankaj Kapoor, Nassar
---
Naa Cheli Rojave Lyrics in Telugu
Na Cheli Rojave Naalo Unnave
Ninne Talichene Nene
Na Cheli Rojave Naalo Unnave
Ninne Talichene Nene
Kallallo Neeve Kanneeta Neeve
Kanumoosthe Neeve Yedalonindeve
Kanipinchavo Andinchavo Todu
Na Cheli Rojave Naalo Unnave
Ninne Talichene Nene
Gaali Nannu Taakina
Ninnu Taaku Gnapakam
Gulabeelu Poosina
Chilipi Navvu Gnapakam
Alalu Pongi Paarithe
Cheliya Paluku Gnapakam
Meghamaala Saagithe
Moha Kadhalu Gnapakam
Manasulekapothe Manishi Endukanta
Neevulekapothe Bathuku Dandaganta
Kanipinchavo Andinchavo Todu
Na Cheli Rojave Naalo Unnave
Ninne Talichene Nene
Kallallo Neeve Kanneeta Neeve
Kanumoosthe Neeve Yedalonindeve
Kanipinchavo Andinchavo Todu
Cheliya Chentha Ledhule
Challagaali Aagipo
Mamatha Dooramaayene
Chandamaama Daagipo
Kurula Sirulu Levule
Poolavanam Vaadipo
Toduledu Gaganama
Chukkalaga Raalipo
Manasuloni Maata Aalakinchalevaa
Veediponi Needai Ninnu Cheraneevaa
Kanipinchavo Andinchavo Todu
Na Cheli Rojave Naalo Unnave
Ninne Talichene Nene
Kallallo Neeve Kanneeta Neeve
Kanumoosthe Neeve Yedalonindeve
Kanipinchavo Andinchavo Todu
Naa Cheli Rojave Watch Video